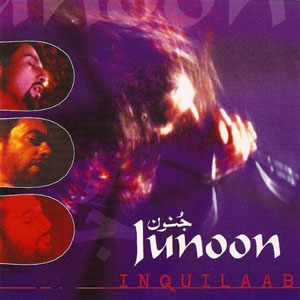 Past 48 hours have been among the worst of my life totally nerve testing to get out of this I followed my old tip – walk alone. I decided to walk to my workplace rather than using the regular way. On my way, listening to music suddenly some known voice hit my ears; "Yaro Yehi Dosti hay". And that reminded me of something that I forgot – I can never forget Junoon but I forgot that I was supposed to write a post to junoon. My favourite rock band that use to entertain and inspire me during my childhood and early boyhood years, who tamed a junooni in me at the time I hardly could understand the soul of their songs. However, when I was grown enough my favourite band was not there anymore. It is true that Yaro yehi dosti hay qismat se jo mili hy (it is friendship that we have earned out of luck). But alas, it did not last long; Junoon broke up and left us with many memories.

A few days back junoon celebrated 20th anniversary and came up with special album featuring some new and some of the junoon's famous songs sung but some young lot of inspired junoonis. Confession I do not have that album yet but it I in my list.
Junoon has been part of my "student of life" course, my decision of not becoming a doctor at a very early age was courtesy Dr. Afzal Hayyat (he might be unknown to many will write about him some other time) and Dr. Salaman Ahmed (the founder of Junoon) became the valid point that I could use in arguments whenever i was asked for not going into medical field.
There was a time when I forgot what cricket is and was more into martial arts junoon gave me "jazba junoon" to revived the cricket fan in me.  Saain told me that this word is not for making fun of the others (in Punjabi we use it for some one who is insane) it is a bigger word with greater meaning. Junoon made me to start reading Iqbal at the time I was in love to hate poetry.
There are many things where junoon inspired me, to many it might sound strange that I am confessing and saying that. Today when I am at a "certain age", I can relate to "Neend Aati Nahi". And "Talash" is one of the many reasons behind starting My Land Pakistan blog. As I said, it has been not so good day and that is something made me to remember that I missed, I am trying to convince myself and my scattered aim with the concept of "Khwab adhoory sahi… Khwab humary to hain", "Tanha aisy kiu be chen phirain… jaagain gy zuroor yeh bhag tere…", and "junnon se aor ishq se milti hay azadi..."  (these are my dreams no matter if they are incomplete, your destiny will glow for sure just dont do not lose your hope, and passion & determination leads to the freedom).
Thank you Junoon for all the memories as many of my dreams came true I am sure one day I will see junoon together again because if "Yaro Yehi Dosti hay qismat se jo mili hy" than there must be the factor alive that results in "Yar binna Dil mera Nai lagda" (I miss my Mate a lot).